Continuum:
The Journal of

African Diaspora

Drama, Theatre and Performance
Amiri Baraka: Revaluation and Appreciation

TABLE OF CONTENTS

Technical Notes/Browsing the Journal
Managing Editor's Notes - Freda Scott Giles
"Remembering Amiri Baraka" - Harry J. Elam Jr., Editor-in-chief
ARTICLES

Return to The Toilet
Melinda Wilson Ramey
ABSTRACT BIO
When LeRoi Jones's one-act play, The Toilet, premiered off-Broadway at the St. Marks Playhouse in December 1964, its locale, excessive language, and violence appalled critics.1 The play showed a group of Black teenagers beating Jimmy Karolis, a white homosexual youth, then leaving him alone on the bathroom floor. George Oppenheimer (1964) of Newsday characterized the black youth as "a bestial collection of [...] savages." Michael Unger (1964) of The Newark Evening News and Martin Gottfried (1964) of Women's Wear Daily bashed Jones for being "an angry young Negro author" whose "obsession with a single – and hopelessly childish – hatred will prove ruinous to his art," respectively. James Davis (1964) of the New York Daily News was so shocked that he left the theatre at intermission without seeing its companion piece. . .


"A Simple Knife Thrust": The Complicated Power of Purgative Ritual in Madheart
Susan Stone-Lawrence
ABSTRACT BIO
The New York Times obituary posted on the paper's website January 9, 2014, identifies Amiri Baraka (LeRoi Jones) as "a poet and playwright of pulsating rage" (Fox 2014). From his canonical 1964 play, Dutchman, to the controversy over his 2002 poem, "Somebody Blew Up America," Baraka maintained an incendiary presence as a provocative and revolutionary artist. As recently as "A Post-Racial Anthology?" in 2013, the poet/playwright declared the primacy of the political and its necessity as a theme for black people. But he may never have managed to assert his Black Power aesthetic . . .

Dramatizing Death Threats: Amiri Baraka's Nuyorican Trio
Douglas S. Kern
ABSTRACT BIO
In critical scholarship, the periods delineating shifts in Baraka's political ideologies have been repeatedly oversimplified. Too often, his legacy is frozen far in the past, and commentators rarely explore his latest works. In Daniel Matlin's 2013 On the Corner: African American Intellectuals and the Urban Crisis, for example, the chapter on Baraka, speciously titled "Be Even Blacker: Amiri Baraka's Names and Places," drops off shortly after 1974, as if the named writer/activist ceases to exist in any place after this particular year (2013). In fact, most contemporary critics treat Baraka as though he did not continue writing. In Amiri Baraka: The Politics and Art of a Black Intellectual, Jerry Gafio Watts justifies his decision to neglect . . . .

Parity, Me and Amiri B.
Yvette Heyliger
ABSTRACT BIO
This is an excerpt of a poem called, SOS, written by poet, playwright, activist and creator of the Black Arts movement, Amiri Baraka. When I first read the poem, I felt its pull but was hesitant to answer, not knowing if I could count myself as "one of the called." I spent many years of my life—well into adulthood—trying to undo the notion that I was "not black enough." Parity, Me and Amiri B. examines my evolution as an artist and how I came to claim this "call" as my birthright; how through my newfound work as a solo performer I came to build a bridge to Baraka, whose Black Arts Movement unwittingly played a role in my comeuppance. . .
2014 S. RANDOLPH EDMONDS YOUNG SCHOLARS COMPETITION WINNING ARTICLES

Playing in the Dark/Musicalizing A Raisin in the Sun
Donatella Galella
ABSTRACT BIO
From the 2014 Broadway revival starring Denzel Washington to the "diversity" (read: non-white) slot in school syllabi, A Raisin in the Sun continues to have a strong hold on the U.S. cultural imagination. In 2011, Bruce Norris won the Pulitzer Prize for Clybourne Park, in which he considers the white neighbors and neighborhood before the Younger family moves in and then the process of gentrification fifty years later.In the 2012-13 season, A Raisin in the Sun and Clybourne Park were among the top ten most produced plays by members of Theatre Communications Group (TCG), the national trade organization for major theatre companies (Goia). Hansberry's play was the only classic on the list.. . .


Intersectionality in the Dramas of Mary Burrill, Alice Childress, and Pearl Cleage
David B. Smith
ABSTRACT BIO
In 1919, African American educator and playwright Mary P. Burrill wrote They That Sit in Darkness, a one-act drama about the death of a poor black mother of seven. Half a century later, African American dramatist Alice Childress crafted Wine in the Wilderness, a 1969 play chronicling an artist who hopes to paint a lower-class, uncultured black woman amidst a night of rioting in Harlem. Finally, in 2013, African American playwright Pearl Cleage published The Nacirema Society Requests the Honor of Your Presence at a Celebration of Their First One Hundred Years, a comedic look at an upper-crust African American family set in Montgomery, Alabama in 1964. Each of these plays employs a similar dramatic style. . .

Perceptions of Race in Three Generations of The Jungle Book
Anna Waterman
ABSTRACT BIO
This past summer, an adaptation of the Disney classic The Jungle Book opened up for a stint on the theatrical stage. Director Mary Zimmerman has re-imagined the tale for The Boston Theater, drawing inspiration from both Kipling's original 1894 short story collection and the 1967 Disney animated feature film. Zimmerman decided to use songs from the Disney version and The Sherman Brothers' collection and also incorporates traditional Indian musical styles and choreography.[i] When faced with the enormous challenge of recreating such an iconic . . .
PRODUCTION REVIEWS

I Want My Vagina Back!
Jeanette W. Hill
The 2014 Atlanta Black Theatre Festival may go down in history as the year of social commentary undertones. Several of the performances, while totally entertaining, presented an undercurrent of personal and social issues that resounded with many in the audience.. . .

Native Guard
Freda Scott Giles
The persistence of memory: memory connects us to our individual pasts, but also connects us to the macro-history that contextualizes that past. Natasha Trethewey, author of the Pulitzer Prize-winning volume of poetry, was born on Confederate Memorial Day in 1976, exactly a hundred years after the holiday was established. Native Guard leads us through her own Mississippi childhood as the daughter of a white father and African American mother who married when interracial marriage was illegal in the state, to the Civil War. . .

The Best Lesson
Ursula Robinson
"What do you do when you are too old to be young, but you are too young to be old?" This is the question is at the crux of the play, The Best Lesson, written by Jeanette W. Hill and presented at the Atlanta Black Theatre Festival in Atlanta on October 11, 2014. What does an older mature woman (Donna) do when she loses her husband (Jake) to a young and vibrant woman (Brelyn) who not only broke up her marriage, but is now pregnant?. . .

While I Yet Live
Michael Dinwiddie
While I Yet Live, Billy Porter's semi-autobiographical drama about coming of age in a Pentecostal household, is praiseworthy for its topicality, its extraordinary performances, and its message(s). With gay marriage legalized in more than thirty states (and more to come), the Christian right is feeling the 'heat' of a changing society, and Porter shows us. . .
PHOTO GALLERY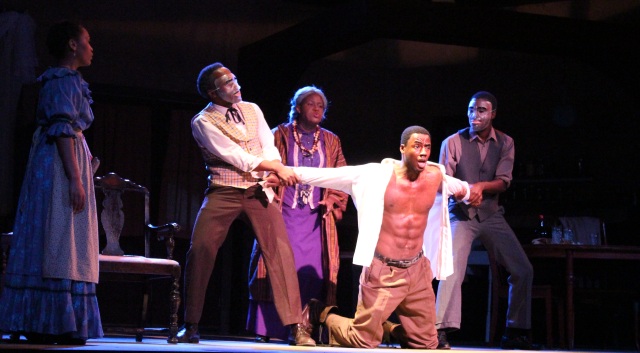 Gem of the Ocean by August Wilson. Performed at Florida A&M University, Oct 2014. Photograph by Kalisha London. L to r: Yesenia Ozuna as Black Mary; LaRonz Wells as Solly Two Kings; Jessica Rebecca as Aunt Ester; Brian Boyd as Eli; and Caleb Thermidor as Citizen Barlow.