Continuum:
The Journal of

African Diaspora

Drama,
Theatre and Performance

TABLE OF CONTENTS

Technical Notes/Browsing the Journal
Managing Editor's Notes - Freda Scott Giles
Editorial Notes "Memory and Spirit" - Beth Turner
ARTICLES

Regina Taylor's Crowns: The Overflow of "Memories Cupped under the Brim"
Artisia Green
ABSTRACT BIO
Adapted from the photo-essay book Crowns: Portraits of Black Women in Church Hats (2000) by photographer Michael Cunningham and oral historian Craig Marberry, Crowns, the gospel musical, has become one of the most widely produced musicals in America since its McCarter Theatre premiere in 2002. Regina Taylor's critically acclaimed adaptation concerns seventeen year old Yolanda, a culturally unaware and increasingly self-sabotaging young woman who is sent south to live with her grandmother, Mother Shaw, following her brother's murder at the hand of his friend. After enlisting the aid of her compatriots—First Lady Mabel; Velma, a funeral director; Jeanette, a working mother; Wanda, the youngest Hat Queen but, no less adept in the rules of fashion; and Man, the church minister—they present for Yolanda, according to scholar Velma Love, what anthropologists Elizabeth Fine and Jean Haskell Speer consider an "epistemological verbal performance." . . .


Oral History in Performance: Weaving Narrative Identity and Reinventing Malcolm X
Keith Byron Kirk.
ABSTRACT BIO
Spike Lee's 1992 biographical film Malcolm X utilizes a recording of a speech constructed and performed by actor and dramatist Ossie Davis as the coda to the film and presents it as Davis's eulogy for the slain leader. In truth, Davis presented a different narrative as eulogy for Malcolm X, and the excerpt presented by Lee was in fact taken from comments made by Davis during an earlier memorial event commemorating the slain leader's passing. Lee's film sought to reframe or possibly to elaborate multiple beliefs held by scholars regarding both the public and private images of Malcolm X. Lee's cinematic retelling of the life of El Hajj Malik El-Shabazz, alias Malcolm X, alias Malcolm Little served as one of many attempts to clarify the life of a man who some perceived as a promoter of violence against multiple groups. Still others perceived the efforts of Lee's retelling of Malcolm X's life, as well as that of Alex Haley's (1992), as fictionalized narratives, each attempting aspects of what Manning Marable described as "re-invention" rather than simple clarifications of history. . . .

The Florence Mills Association vs. Bill "Bojangles" Robinson: The Contentious Battle over Flo Mills' Monument
Rhona Justice-Malloy
ABSTRACT BIO
Florence Mills, the internationally known singer, had just returned to New York after a wildly successful tour of London. In late October of 1927, when her ship, the Île De France, docked at Pier 51 in Manhattan, she was greeted by an adoring crowd that "whooped for joy" as she moved toward the caravan of cars waiting to escort her to Harlem and on to her home at 220 W. 133rd Street (Chicago Defender 1927a).

Several days later Flo Mills fell ill and while recovering in the hospital following two surgeries and a blood transfusion, she suddenly passed away on November 1. According to her husband, Ulysses "Slow Kid" Thompson, even on her deathbed she sang to visitors to cheer them up. Her fans were eager to know the details of her death. Though the official cause of death was appendicitis, rumors of foul play circulated. Thompson put an end to them explaining to newspaper reporters that "Flo had only worked herself to death, insisting on playing two shows daily in London even when she was visibly sick and exhausted" (Maeder 2005). It was typical for the diminutive young star to perform three hundred shows without a break. She was only thirty-two years old when "exhaustion" claimed her life.[1]. . .

Last Sunday: Using Collaborative Playbuilding to Understand Why Some African Americans Leave the Black Church
James Webb
ABSTRACT BIO
Collaborative playbuilding is an emerging qualitative arts-based research design that is participatory in nature and draws upon the expertise of its research participants to assist with data collection, analysis, and dissemination of research findings, which includes creating a performance script, rehearsing with actors, and dialoguing with audience members in a post-show talk-back session (Campana 2005; Norris 2009). This type of research repositions participants from a passive to a more active state of engagement by placing them at the helm of the research process. The methods employed by collaborative playbuilding are similar to those of performance ethnography in that researchers use interviews, observations, and focus groups to generate data that will be used (mostly verbatim) in a performance script and presented before a live audience. However, collaborative playbuilding is unique in that its design is not simply to report the findings of its research but also to fully involve its participants in that process. Therefore, data generation does not end with the presentation of the play but rather continues with post-show discussions with audiences and participants, causing an overlapping effect in the process of how data is generated, analyzed, and disseminated. Ultimately, there is no definitive claim on the methodology of collaborative playbuilding. Researchers adapt the form to fit the needs of their particular research questions. . . .
Book Reviews

Staging Migrations Toward an American West: From Ida B. Wells to Rhodessa Jones by Marta Effinger-Crichlow
kb saine
With exhaustive scholarly and archival research, site visits, personal interviews, and the establishing of an archive of narratives, Marta Effinger-Crichlow's Staging Migrations Toward an American West examines how Black women's on- and off-stage performances—as part of their western migrations—shape tales of personal and sociopolitical journeys toward freedom. She defines migration both literally and figuratively: she traces the physical geographic paths of African American women through and into the West, while simultaneously illuminating their more subtle personal journeys towards recognition and representation... . .


Acting Up and Getting Down: Plays by African-American Texans
Corey A. Stephens
The landscape of the theatrical universe is broad and populated with many worlds, each as distinct as the characters and aesthetics that inhabit them. But not unlike the real universe, it is always in flux, ever ebbing. Entire movements are born and extinguished as fast as the last curtain call. In the cosmos of mainstream theatre there is little room for theatrical outliers. Mainstream theatre tends to lean toward its favorites: David Mamet, Arthur Miller, and those newly emerging voices from old spawning grounds.. . .
Production Reviews

Pussy Valley by Katori Hall
Le'Mil L. Eiland
For thirty-nine seasons, the Mixed Blood Theatre Company has produced plays that reflect its mission of being provocative, inclusive and predictably unpredictable. The theatre company's mission is exemplified through the staging of Katori Hall's Pussy Valley. Hall continues her commitment to writing narratives, often marginalized and unseen on the American stage, at the nexus of vulnerability, resilience, and aspirational hope. She illuminates complex female characters and a Southern culture with distinct dialectic rhythms. Deep in the heart of the Mississippi Delta, Pussy Valley's soundtrack is contemporary Hip-Hop music. But more than musical transitions and pole-dancing accompaniment, the Hip-Hop music reflects the pleasures of material access, struggles of hard choices, and pulsing cadences; the music complements the world of the play. . .

Dutchman by Amiri Baraka
Douglas S. Kern
This April, I watched history repeat itself. Forty-seven years after Dr. King's assassination, Baltimore burned once again. The reason hadn't changed; the fires were fueled by a rather predictable occurrence in relation to the U.S. racial climate: a Black person (Freddie Gray) was allegedly killed at the hands of White racists. Amiri Baraka tapped into such danger throughout his 1964 drama, Dutchman, and, though I think we can agree that progress has been made over the past years, it is impossible to address a production of Baraka's work without acknowledging its modern-day significance. No one knows this better than Woodie King Jr., founder of New York's New Federal Theatre (NFT). King's recent NFT production of Baraka's Dutchman, performed at the Castillo Theatre in New York City between February 5 and March 8, 2015, echoed the unrest we're witnessing on our nightly news stations, and recalled Dutchman as a springboard able to provoke audiences through its dramatic representation of a proposed retaliation.. . .

Urban Bush Women Thirtieth Anniversary Tour
Freda Scott Giles
It is hard to believe that thirty years have passed since Jawole Willa Jo Zollar founded the iconic dance/performance company Urban Bush Women. Today she carries the title Visioning Partner, and her vision is as vibrant and socially aware as ever. Since 1984 the company has been fulfilling its mission to combine cutting edge modern choreography with community engagement. Its home base is Brooklyn, New York, but the company's dance programs and workshops have been seen and experienced all over the world. . . .
PHOTO GALLERY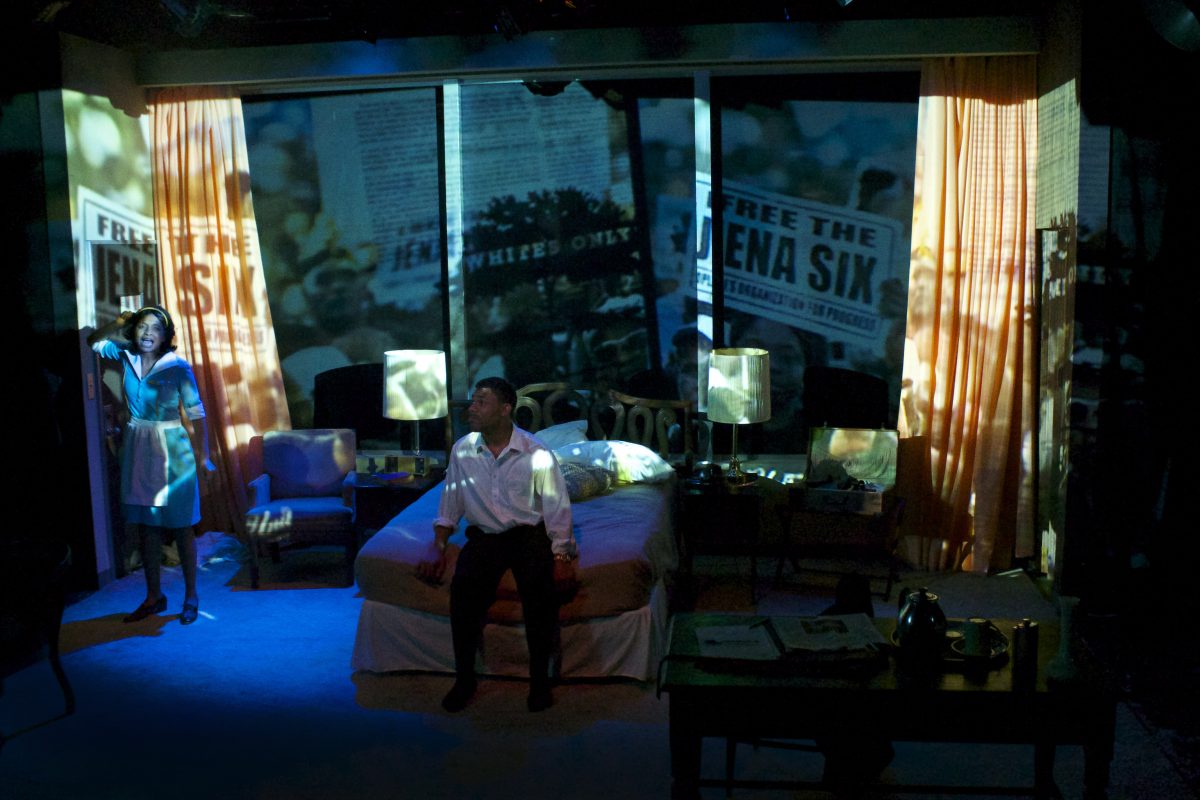 The Mountaintop by Katori Hall. Performed at The University of Arkansas Department of Theatre and The African and African American Studies Program Studio 404, January 30-February 1, 2015. Photograph by Emily Clarkson.