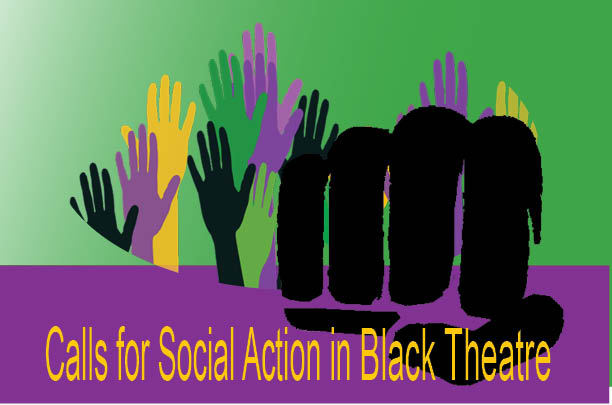 Continuum:
The Journal of

African Diaspora

Drama, Theatre and Performance
Calls for Social Action in Black Theatre
Dr. Sandra Shannon, Editor-in-Chief

TABLE OF CONTENTS

Technical Notes/Browsing the Journal
Editorial Notes: "Calls for Social Action in Black Theatre" - Sandra G. Shannon
ARTICLES

Casting Stones: The Men of Lynn Nottage's Ruined
Shayla Atkins
ABSTRACT BIO
In discussions of Lynn Nottage's Ruined (2009), one reoccurring issue among theatre scholars is the work that the play does as a performance about war and women. In his review "Mama Nadi and Her Women" in American Theatre, Randy Gener explains that Nottage creates "a humanist exposé" about women's ravaged bodies in the Democratic Republic of Congo (DRC). While Sharon Friedman acknowledges Ruined's negotiation of the war's effects on women, she maintains that the play fails to address the issues of the civil war taking place in DRC effectively (2010). Further, Barbara Ozieblo questions in "'Pornography of Violence'" the ways violence is spectacularized and thereby made pleasurable compared to other plays that deal with violence, but she maintains that Ruined "ends with a glimmer of hope" (2011, 75). Moreover, in his New York Times review in February 2009, Ben Brantley identifies moments in the play as overly sentimental and unnecessarily longwinded, thereby taking away some of the import of the war awareness effort, and in The New Yorker's March 2009 issue,Hilton Als claims the "speeches...are too self-consciously purposeful not to be corny. Still, we believe them, if only because [1]Nottage does." . . ..

"Still Playin Wid Dem Barbie Dolls? Never Mind, Don't Answer That": Tyler Perry's Stage as a Lonely Place for Black Queers
Timothy S. Lyle
ABSTRACT BIO
Though scholars have only started to measure Tyler Perry's import as a cultural figure, an industry expert, and a political mouthpiece, his early work as a dramatist matters immensely in mediating on dynamics of blackness and queerness on the black American stage in the twenty-first century. In an earlier project,I probed the politics of Perry's performative drag acts to ask complicated questions about his ostensible feminist stance (Lyle 2011), but with this current rumination, I hope to extend my scope to address Perry's sexual politics and his oppressive tendencies towards black queers. If careful readers of Perry's work recognize and interrogate the fact that Perry is in drag for much of his dramatic corpus —an act so heavily centralized in affirmative queer subcultures—we might ask complex questions about Perry's conflicted admixture of homoeroticism and heterosexism in some of his earliest plays to the current moment. Though Perry often centralizes and engages in homoerotic moments onstage as Madea sexualizes hypermasculine, shirtless young men on stage, he still manages to insert moments of oppressive dialogue and to privilege taken-for-granted heteronormativity in thematics of his fictive world... . . .

Neoliberalism, Gentrification, and Black Theatre in San Francisco and St. Paul
Macelle Mahala
ABSTRACT BIO
As the organization and makeup of American cities have changed, so too have the place of African American theatres in contemporary urban arts ecologies. As institutions that engage a diverse range of artists and patrons at the intersection of racial politics, city planning, and aesthetic production, these organizations foster civic engagement within a multi-ethnic public sphere. They also articulate the cultural specificities, socio-political realities, and histories of African Americans.
Today, many cities operate within a neoliberal framework that sees art as part of "the creative economy" and a tool for urban renewal and gentrification (Howkins 2002; Clark 2011). At the same time, urban theorists such George Ritzer (2009; 2012), Michael Sorkin (1992), and Sharon Zukin (1991; 1996; 2011) have lamented the increasing privatization of public urban spaces. They point to the popularity of gated communities, the shifting of universities towards what has been termed "edu-tainment," the decline of main street, and the rise of big box stores as evidence of this phenomenon. This restructuring of urban space has transformed arenas formerly understood as civic and public into areas that are increasingly experienced as private and consumptive. In the essay "Neoliberal Urbanism: Cities and the Rule of Markets" Nik Theodore, Jamie Peck, and Neil Brenner describe the process of American urban neolibralization as the "destruction of the 'liberal city' in which all inhabitants are entitled to basic civil liberties, social services, and political rights," and the "'rolling forward' of new networked forms of local governance based upon public-private partnerships and the 'new public management' "(2011, 22-23). . .

Celebrating the "Historical" Community through Different Voices: Ping Chong and Talvin Wilks's "Women of the Hill"
Yuko Kurahashi
ABSTRACT BIO
The above self-introductions are from the opening section of "Women of the Hill," the 2009 installment of Ping Chong & Company's oral history series Undesirable Elements. Co-created and directed by Ping Chong along with playwright and director Talvin Wilks and Sara Zatz—who has worked with Chong on Undesirable Elements for over a decade—Women of the Hill chronicles several decades in the lives of six women and their family members who live or have lived in Pittsburgh's Hill District.
Chong, who has been known for his innovative scenography since his first theatre piece staged in New York City in the 1970s, used his training in visual arts and film at the Pratt Institute and at the School of Visual Arts and in dance with Meredith Monk to create an unconventional type of theatre that integrated different art forms—dance, film, puppetry. He has explored and developed eclecticism in his art for the last four decades, staging multimedia and movement-based theatrical pieces on a wide range of subjects from his early abstract conceptual theatre work to more recent story-based work. . . .
PHOTO GALLERY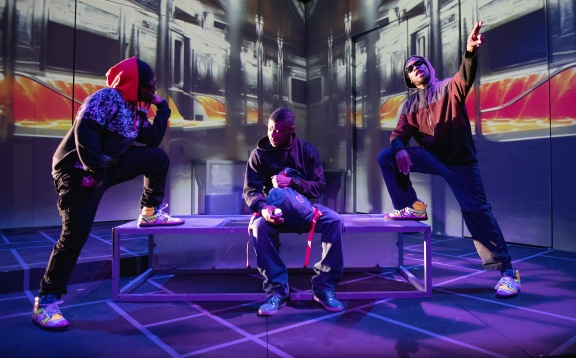 Honky by Greg Kallares. Performed at Black Box Theatre at the Nadine Maguire Theatre Pavilion. University of Florida March 18-26. Directed by Mikell Pinkney. Photograph by Suzanna Mars.