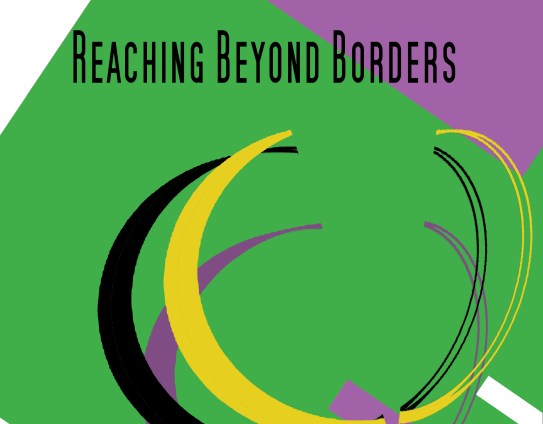 Continuum:
The Journal of

African Diaspora

Drama,
Theatre and Performance

TABLE OF CONTENTS

Editorial Notes: Reaching Beyond Borders - Sandra Adell
ARTICLES

"The blood remember don't it?": The Ethnocultural Dramatic Structure of Katori Hall's The Blood Quilt
Artisia Green
ABSTRACT BIO
Audiences witnessed a "flash of the spirit" in the midst of Arena Stages' 2014-2015 season with The Blood Quilt, an expressive manifestation of Katori Hall's eye into attributes of the Yorùbá of Nigeria and their descendants in the Diaspora. The play's Yorùbá signifiers glorify the African roots of the southern American landscape. Hall repeats and revises mythistories of the Òrìṣà, rituals, and most notably the sacred orature of the Odù Ifá. As Hall muses about "forgiveness . . . and [letting] things go," (Beete 2015, n.p.) she reaches back into the Africanist past, retrieving, and weaving cultural modalities within the play's fabric. Hall's inclusion of such modalities—through research and/or as she posits, "blood's memory" (Hall 2015b, personal communication)—suggests the enduring permanence of African aesthetics within the tradition of Black Theatre. What implication do the ciphers of the Africanist past in a contemporary play have on the present? How does the expression of Africanist aesthetic patterns in text and performance, clandestine as they are in The Blood Quilt, speak to the terms on which this particular Black play is constructed and evaluated? My research enters amidst these questions and the current limited scholarly analysis of Hall's oeuvre. . . ..

Girls' Voices in Community Action Theatre in Tanzania
Riah Werner
ABSTRACT BIO
Community Action Theatre is an approach to community-based theatre creation that combines Theatre for Development with Behavior Change Communication. It allows theatre artists to collaborate with members of the local community to create plays about issues facing them in their local contexts, which culminate in audience discussions. The intention is for the community to see and process the causes of their problems through theatre, allowing for changes in thinking and, ultimately, new behaviors that redress the community's ills. The community-led process also foregrounds the voices of marginalized community members, in this case female students, and provides them with a platform to address their community at large and bring attention to the issues they face. In this essay I describe the ways a Community Action Theatre project allowed a group of girls at a rural secondary school in Tanzania to force their community to acknowledge the gender-specific issue of early marriage and its interconnections with expulsion from school, HIV/AIDS, teenage pregnancy and infant mortality.... . . .
Book Reviews

Black Dionysus: Greek Tragedy and African American Theatre, by Kevin J. Wetmore, Jr.,
Jefferson, North Carolina: McFarland & Company, Inc., 2003
Athenian Sun in an African Sky, by Kevin J. Wetmore, Jr., Jefferson
North Carolina: McFarland & Company, Inc., 2002; 232 pp.; $35.00 cloth.
Alani Rosa Hicks-Bartlett
In Black Dionysus: Greek Tragedy and African American Theatre, Kevin J. Wetmore, Jr., relies on a wide range of methodologies in his historical and literary analysis of the use of Greek myths and the representation of Greek culture in African American theater. A major caveat heads his work: Wetmore cautions readers against the risks of interpretive perspectives that favor universality, for these ignore the violent colonialist underpinnings of adaptation. He also points to the historical recurrence of stereotypes and the racist and disempowering process by which African material is compared to, 'validated' by, and often only acknowledged because of its perceived emulative similarity to cultures cast as superior. It is precisely this fraught relationship, that is, the complicated negotiation between Greek culture, African, and African diasporan material that Wetmore seeks to understand in this study of African American theatre..


African Women Playwrights, edited by Kathy A. Perkins. Urbana & Chicago: University of Chicago Press, 2009
Philip Effiong
African Women Playwrights is a timely and unprecedented collection of plays that introduces refreshing new voices to modern dramaturgy. Compiled and edited by Kathy A. Perkins, this is the first anthology to exclusively showcase plays written by East, West and Southern African women in English. Coming from Ghana, Uganda, Zimbabwe, Cameroon, Kenya, South Africa and Nigeria, the featured dramatists delineate widespread national and regional representation. From the seasoned writer Ama Ata Aidoo to the more recent Danai Gurira, they range in age from their twenties to early sixties and thus embody an extensive generational spectrum incorporating diverse ideologies, thematic concerns, aesthetic styles and perspectives. The plays are also symbolic of changing perceptions about the role theater can play in social transformation and are informed by evolving historical realities which are partially captured by biographical information preceding each play and candid interviews identifying the factors that have influenced each writer's approach, subject matter and vision... . .

African Accents: A Workbook For Actors by Beth McGuire. New York: Routledge, 2015
Jane Guyer Fujita
African Accents: A Workbook For Actors by Beth McGuire is a comprehensive guide written for professional actors, dialect coaches, theatre students and professors. Accents from eleven African countries are broken down for the actor in this book: Uganda (Luganda), Kenya (Dholuo), Zimbabwe (Shona),South Africa (Zulu), South Africa (Afrikaans), Rwanda (Kinyarwanda), Democratic Republic of Congo (Lingala), Senegal (Wolof), Nigeria (Igbo), Ghana (Akan: Twi and Fante), and Liberia (English).

Shakespeare In & Out of Africa,
edited by Jane Plastow. African Theatre 12
.
Woodbridge, Suffolk, UK
.
Phillip Zapkin
The African Theatre series is an excellent resource for scholars and artists seeking information on African performance traditions and theatrical practice, and Shakespeare In & Out of Africa is a great addition to the series. The essays address issues central to postcolonialism and adaptation studies: questions of authority and language, cultural hegemony, national identity, and the commodification of global south culture. Most articles focus on performances at the 2012 Globe to Globe Festival, which brought theatre companies from thirty-seven countries to perform Shakespeare's works in translation at the New Globe Theatre in London. In this context, representation, authority, and language were particularly fraught because of Shakespeare's status as a globalized symbol of British (European/Western) identity and London's position as both a post-imperial capital and neo-liberal power center. This volume analyzes the problems of representation for the performers from sub-Saharan African nations.
Production Reviews

Flip-in, Mysticism and Marriage on the Rocks
Charles White
John Shévin Foster's Flip-in is a thirty-minute urban folk tale that premiered on March 31, 2016 at the HERE Arts Center in New York City as part of the Downtown Urban Arts Festival. The play is an exploration of a troubled marriage. Nia (Gillian Glasco) and Trashaun (Reginald L. Barnes), a young couple, are clearly having a hard time adjusting to each other's needs and schedules. Each has a demanding career. Nia is a corporate executive who is under pressure to bring in clients. Trashaun is an up-and-coming music producer at a record label who is working on an album with his assistant, Keesha (Kaili Y. Turner), and young rapper, A Roc (Marco Munoz). Trashaun spends all of his time at work, and Nia suspects that Keesha is providing Trashaun with more than professional services. . .

The Past is Present in KC MeltingPot Theatre's Rachel
(Tthe play was Rachel by Angelina Weld Grimké)
Cheryl Black
In 1909, the NAACP launched a national crusade against lynching, the most violent and heinous of extra-legal but socially sanctioned manifestations of white supremacy. In 1916 black scholar William Pickens asserted that "disclosures of southern brutalities would be an essential precondition to ending mob violence." That same year Washington D.C. teacher, poet, and playwright Angelina Weld Grimké answered that call, offering Rachel (original title Blessed Are the Barren), a play that dramatized a young black woman's brutal awakening to racial violence, an awakening that forces her to renounce marriage and motherhood rather than to bring children into a world bent on their destruction. A century since its premiere, the play resonates powerfully in the present day, as a latter-day "anti-lynching'' crusade, The Black Lives Matter movement, has emerged to combat racism and racist violence and to celebrate and honor black experience.. . .

Barbecue by Robert O'Hara
Tony Fitzgerald
Playwright Robert O' Hara has dealt with themes of secrecy, family, race and gender since his startling acclaimed early work, Insurrection: Holding History (1997). His newest play, Barbecue, continues an exploration of these themes, adding a great dollop of irony to the fate of these characters in a funny and often audacious domestic comedy. In this play, O'Hara confronts two pervasive themes in contemporary American culture: exploitation and authenticity. Being the clever and provocative playwright that he is, O'Hara delivers, for the most part, a piercing look into how our contemporary media culture is dominated by the "reality show," where episodes of human frailties are exploited for the sake of fame and fortune. O'Hara uses the substance abuse intervention as a mirror that reflects our society's all consuming penchant for the tabloid presentation. While a comedic tone dominates, Barbecue's underlying seriousness is revealed through its characters' attitudes toward their own dysfunctional issues in relation to gender, race and class... . .
PHOTO GALLERY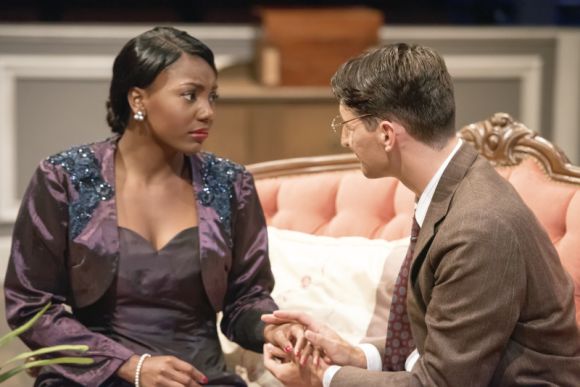 The New Mrs. Tesman. A new adaptation of Henrik Ibsen'sHedda Gabler by Mikell Pinkney.
Performed at the Nadine Maguire Theatre & Dance Pavilion. University of Florida Sept. 2016.
Directed by Mikell Pinkney. Photograph by Suzanna Mars.